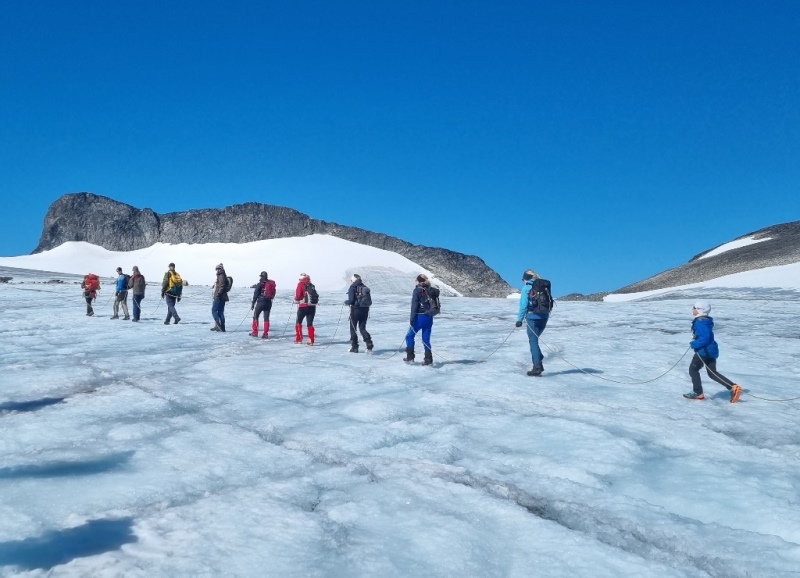 I midten av juli gikk vi en guidet tur fra Juvashytta til Galdhøpiggen. Vi savnet litt mer informasjon før vi dro, derfor lager vi en turbeskrivelse som vi håper noen kan ha nytte av.
Det finnes tyngre ruter til toppen av Norges høyeste fjell, men turen fra Juvasshytta er overkommelig for de fleste. Det er flere aktører som tilbyr guidet tur, men vi var veldig fornøyd med kombinert opphold på Juvasshytta og tur derfra. Juvasshytta ligger på 1840 moh og Galdhøpiggen på 2469 moh, så det er egentlig ikke så mange høydemeter å gå. Man går samlet i gruppe mesteparten av turen, og alle må gå i taulag over Styggebreen. Det er ikke anbefalt å gå alene over breen. Den tyngste delen er helt på slutten, der er det et bratt parti som kan være litt utfordrende i den tynne luften. Guidene sørger for at hele gruppen holder et rolig tempo det meste av veien, men en kan bestemme selv hvor fort en vil gå det siste stykket. Det er beregnet god tid til at alle kommer seg til toppen og får tid til å se på utsikten. Vi var utrolig heldige med været, men en må være forberedt på dårlig vær og lite sikt. I informasjonen fra Juvasshytta sto det at turen er på 15 km, mens guiden sa 12 km. Våre klokker målte 11 km. Det er ihvertfall ikke så langt som 15 km.
Juvasshytta
Vi bestilte to overnattinger og middag på Juvasshytta. Den ligger på 1840 meter, så det siste stykket er er en nokså luftig vei. Det er bom, og du kan betale på en automat når du kommer frem. Fra Lom tar du Sognefjellvegen (Fv 55) og tar av på Galdhøpiggvegen. Det er ikke vanskelig å finne. Du må bestille tur til Galdhøpiggen for å bo på hytta. Vi bestilte rom med bad, men de har også billigere rom der en deler bad med andre. På hytta har de en butikk som selger turutstyr, og de leier også ut fjellsko. Du kan sette frem thermos kvelden før og få den fylt med kaffe eller kakao, og du kan smøre med deg niste. Priser for dette finner du på hytta. Middagen var helt nydelig, med lokale råvarer og dessertbuffet. De har en fast meny, men vi kunne velge mellom to typer kjøtt (eller begge). Spisesalen er ikke så stor, så vi ble plassert ved et bord sammen med andre gjester. Det var bare hyggelig. Vi fikk også en liten innføring i hyttas historie av det hyggelige vertskapet. Du kan lese mer på nettsiden til Juvasshytta, her står det blandt annet litt om bekledning. Etter at vi hadde bestilt turen fikk vi også tilsendt litt generell informasjon og pakkeliste.
Turen
Gruppa fra Juvasshytta får gå først til toppen, og turen startet klokken ni. Fordelen med å starte først, er at det ikke er så mange på toppen, og at breen ikke er så våt og opptråkket på vei opp. Vi møtte opp en halv time før, og fikk en innføring av de to guidene våre. Siden turen skal være behagelig for alle, sørger guidene for at tempoet er rolig. Det blir mye køgåing og alle pauser er felles, så en må bare innstille seg på at dette er en sosial tur. Den første delen av turen er rett under 3 km på steinete sti med svak stigning. Det tar i underkant av en time, og første pause er når en kommer frem til brekanten. Vi ventet mens guidene la ut tau, og fordelte oss i to taulag, et bak hver guide. Vi brukte brystseler, som vi fikk utdelt før start. Noen av deltagerne hjalp også til med å bære tauene. Det er ingen pauser over breen (med mindre noen er nødt til å stoppe), så en må tenke på hvor mye klær en vil ha på før kryssingen begynner. Guidene finner den tryggeste veien, og alle andre følger etter. Siden det var så fint vær, var snøen på breen litt våt da vi krysset. Vi tråkket ned i slush og noen ble nok litt våte på beina. Da vi gikk ned igjen hadde solen stått på lenge, og mange andre taulag hadde krysset. Da gikk vi i slush det meste av vegen, og krysset også en bekk. Noen steder sank vi ned til midt på leggen. Det var nok litt uvanlig vått siden vi hadde så fint vær, men vi var glade for høye fjellstøvler og gamasjer.
Turen over breen er også i slak stigning, og tok ca 45 minutter. Vi fortsatte å gå i tau til vi var kommet et godt stykke opp i uren. Her var det litt klyving, noen som var litt tungvindt med tau. Vi tok en pause og hektet oss av tauet. Det siste stykket til toppen er ca 2 km og 400 høydemeter. Det er litt klyving og resten er stein som er ganske lett å gå i. Her fikk alle gå i sitt eget tempo. Siden en av oss har litt problemer med astma og tynn luft, gikk vi sakte opp, men vi greide det på en halv time. Tenåringen vår gikk betydelig raskere. Noen brukte en del lenger tid enn oss, men alle fikk god tid til å ta seg pause på toppen. Det er en liten hytte der som selger litt mat og drikke, men vi hadde med oss egen niste. Vi fikk et tidspunkt vi skulle møte nede ved tauene, og anbefaling på hvor lang tid vi burde beregne. Vi hektet oss på tauet og gikk samlet over breen. Her var den guidede turen slutt, og alle gikk i eget tempo tilbake til hytta.
Krevende topptur
11-12 km
2469 m.o.h
650 meters stigning
6,5 timer
Parkering/overnatting på Juvasshytta
Total distance:
11.34 km
Max elevation:
2402 m
Min elevation:
1798 m
Total time:
06:11:13
Download file:
2022-07-21_Galdhøpiggen.gpx